2020/05/11
Judith Zoltánné Szilvássy, former Acting Director of the ISSN International Centre, died in Budapest, Hungary, on 25 February 2020 at the age of ninety.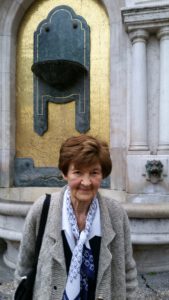 Judith Zoltánné Szilvássy began her career as a librarian at the Central Library of the Budapest University of Technology from 1951 to 1957. She then worked at the Széchényi National Library from 1958 to 1991. She devoted her life and work to librarianship. She led important projects such as the establishment of the Hungarian ISDS Centre, which became the Hungarian ISSN Centre in the 1990s, the modernization of the Central Catalogue of Foreign Journals, and the launch of the National Periodicals Database (NPA). In 1990, when Hungary became a member of the Council of Europe, Judith Zoltánné Szilvássy was invited to establish the Council of Europe Information and Documentation Centre within the Hungarian Parliamentary Library. She headed this centre until 1998.
Her professional career has also been remarkable in the international arena: she served on the Board of the ISDS including as president, later the Governing Board of ISSN International Centre, from 1976 to 1992. In 1987, after the sudden death of Marie Rosenbaum, Director and Founder of the ISDS International Centre, she was Acting Director of the Centre for one year. Thanks to her language skills (English, French and German), Judith Zoltánné Szilvássy has carried out several international missions at the request of UNESCO, the Council of Europe, ISO (International Organization for Standardization) and IFLA.
Her main area of interest was periodical management. IFLA's Serial Publications Section, which later became the Serial Publications and Other Continuing Resources Section (SOCRS), entrusted her with editing a manual on periodicals which was published in 1996 under the title Basic Serials Management Handbook. This manual has been translated into several languages (French, Russian, Spanish). It was also published in Hungarian in 2006 with updated content. By teaching librarianship to her young colleagues, she has shared her experience and knowledge with the new generation of librarians.
Judith Zoltánné Szilvássy's career is recounted in an interview she gave in 2015 to Gaëlle Béquet, the current director of the ISSN International Centre, on the occasion of the fortieth anniversary of the ISSN system. Judith Zoltánné Szilvássya was already retired but showed an enduring interest in her profession. The interview was published in the special issue of the journal Ciência da informação (No. 44, 2015) of the Instituto Brasileiro de Informação em Ciência e Tecnologia (IBICT), which manages the ISSN Centre in Brazil. The interview is available online.
The ISSN International Centre extends its condolences to the family and colleagues of Judith Zoltánné Szilvássy.